Custom Orthotics Can Help
Heel Pain / Foot Pain
Plantar Fasciitis
Achilles Tendonitis
Flat Feet and High Arch Feet
Bunions and Joint Pain
Arthritis Pain
Reduce Foot Pain With Custom Orthotics
When you experience foot pain, specifically in the arch of the foot, you likely thought you needed more cushion. A softer sole or more cushion feels great, but it doesn't address the underlying issue causing the foot pain. Our 15-minute orthotics assessment will help us identify which orthotic you need and get you on the road to relief with a new custom orthotic. Call our office today to request an appointment.
Schedule Your Orthotics Assessment

(630) 548-3900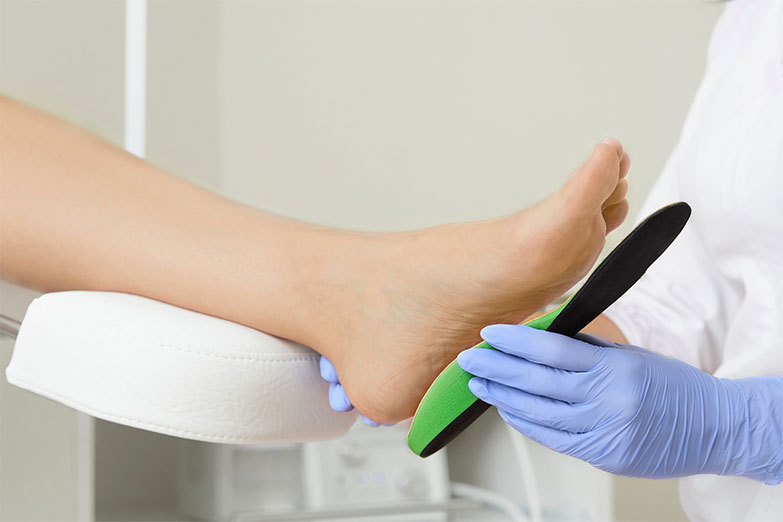 Examine & Scan Your Feet
The first step is for the doctor to examine your foot, diagnose the underlying issues, and take a scan or mold of your foot to get a custom imprint that is specifically designed to match the curves of your feet.
Create Custom Orthotics
The second step is for our orthotics lab to create the your new custom orthotics and ensure that each section matches up with the results of your scan.
Orthotics Fitting & Adjustment
On the day you receive your custom orthotics the doctor will examine how the orthotics line up with your feet and make any necessary adjustments. Some custom orthotics may require additional adjustments.
New

Orthortics
EVA
Custom Milled

EVA Orthotics

Ethylene Vinyl Acetates (EVA) is an accommodative material that offers great control and shock absorption. Only available through 3Dmaxx or casting.
Can be replaced with content from their orthotics supplier, if applicable
Top 10 Benefits of Orthotics
Customized Comfort: Tailored to the exact shape of your foot, ensuring maximum comfort with every step.
Pain Relief: Alleviates foot, ankle, and even back pain caused by misalignment or foot conditions.
Enhanced Foot Support: Provides optimum arch and heel support, reducing foot fatigue.
Improved Posture: Aligns the foot and ankle joints, promoting better posture and balance.
Protection & Cushioning: Protects the feet from undue pressure, minimizing the risk of ulcers, especially in diabetic patients.
Extended Shoe Lifespan: Reduces the wear and tear on your shoes, allowing them to last longer.
Optimized Athletic Performance: Enhances stability and performance for athletes, reducing the risk of injury.
Correction of Foot Abnormalities: Helps in managing conditions like flat feet, bunions, and plantar fasciitis.
Reduction in Joint Strain: Lessens the strain on the knees, hips, and lower back.
Boosted Mobility: Experience greater ease and freedom in daily activities and exercises.